Today is the day to share your MASTER BEDROOM, hooray! SO stop by
A Touch of Grey
, say hello to my friend and fellow Auburn Grad Rachel and link up! I am sharing my master bedroom story and linking up today in honor of the Roomspiration blog hop & link party.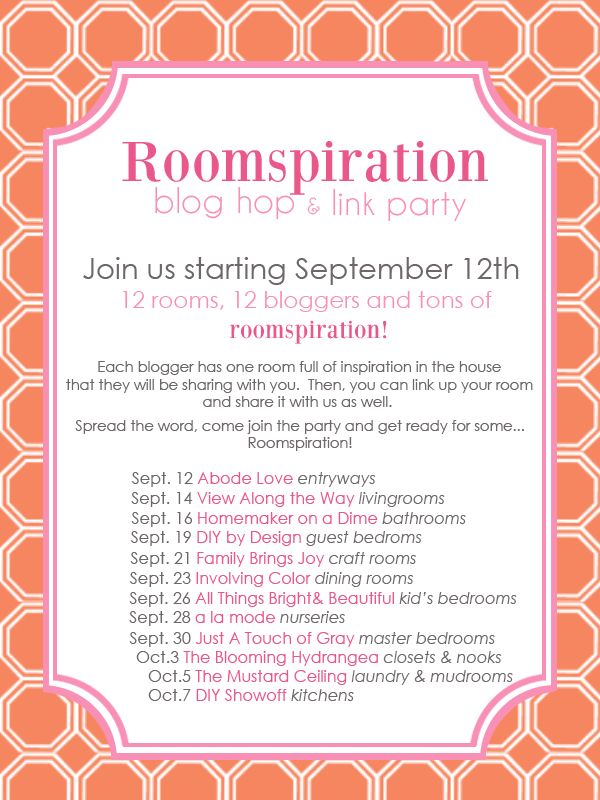 When Mister Husband and I purchased our lovely abode, we had nothing. Literally. Nothing. We had a queen sized mattress on the floor, a dining table (but no chairs), a flat screen tv, one dresser, one small side table from Target, and an old box. This is absolutely not an exaggeration. My idea was that I didn't want a bunch of skank crap that I drug through college to live in my abode. Not then, not now, not ever. I knew that if I filled my home with crap, it would be tough to get rid of it!
So- I am pathetic and don't have "before" photos of the abode... (that I can find). I do have some photos with people in them, as well as dogs.... so- here are my before photos... try to ignore Mister Hubbs, King and Lady!
This is the beautiful other side. That is the one dresser that we owned- the big screen was purchased by Mister Husband prior to living in our abode.
See... the pups are playing too!
Here was the first new part of the room! We needed a dresser that was tall and wide, this one seemed to fit the bill!
And THIS was the first big piece of furniture I bought for our lovely abode. (from ZGallerie) I love it. I still love it, it's glamorous, HUGE and timeless. I mean, who doesn't love a tufted sleigh bed? anyone? anyone?
Which leads us to where the master is now... I decided to paint the room a warm shade of gray while Mister Hubbs was away one weekend. It was JUST what we needed in this space!
Here is the entrance to our lovely master bedroom. That photo is my bridal portrait that was displayed at our wedding. I used a photo light abode it that I love, it really lights up the little nook at the entry of our bedroom.
the ceiling is painted a different shade of gray- it has less brown in it- I like the subtle difference.
and here is the bed! It stands out much more- and the artwork also makes a much larger impact. I purchased the sapphire blue velvet drapes from World Market. They are 96" and they were only around $40 per panel! Great steal. The feather chandelier was a DIY project that I did back in May and I still LOVE it!
Here is a view from the other side of the bedroom
my painting again...
The master bathroom is painted in the same warm, mustard color as the duvet. It's a nice pop of color in the midst of all of the warm gray. The small tv is MUCH better for the bedroom, it's there so that I can watch Chelsea Lately before going to sleep. The mirrored piece it's sitting on is a lingerie chest from Pier 1. I got it for Christmas for my mom, love it!
The mini cloche is from one of my sweet friends- and inside are the boutonnieres that my mother-in-law made for all of the groomsmen at our wedding. I LOVE them- they are made of feathers, velvet, small pearls and four leaf clover charms. They are so precious that I was thrilled to display them in our home. The wire frame is another favorite thing that I got from Urban Outfitters- love it! It's big and makes a statement, but its airy so it doesn't feel too heavy. Also, Mr.Hubbs and I have photos displayed of our parents on their wedding days- they were also displayed at our wedding.
I love matching different patterns of bedding- I think it's so fun to switch out pillow cases to change the entire look of a room. The front pillow if from Anthropologie and I just LOVE the pink flannel on the backside of that yummy pillow! Such a fun surprise!
Here is Mr. Hubss side of the bed.
and my side... the mirror was picked up in Mexico on our Honeymoon. And yes- that is Mister Husband in the white frame... I like to keep a photo of my handsome man next to my bed! ha!
The starburst mirror over the bed was a lucky find from TJMaxx... yes, TJMaxx. It was $32. I was so excited! Look at that... convex on the cheap!