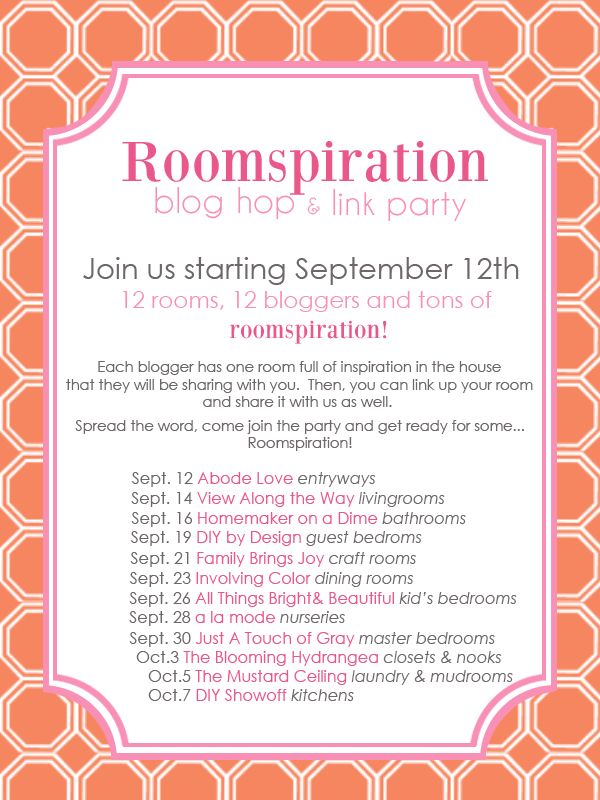 I am so excited to be a part of my first LINKY PARTY! Myself and 11 other amazing bloggers are coming together to share our homes and see what yours looks like! Today we are sharing entryways... For those of you who have seen my entryway, just play along and add yours below!
Here is my pretty entry/ main hallway... stripes were a must... this was my first project that I completed in my first home- and boy did I make a statement. I do not have a photo of the wall before... I know, I know... it's sad, I've already had a pitty-party about it... so, this is the best I could do. This is right after mister hubbs and I closed on the house, and I was giving a tour to my supermom... she didn't take a photo of the actual hall, because as I said before, hallways are generally lame.
Can you see the lame-ness? Barely? Well, its all I've got- so imagine a LOT of "builder beige" very granola... and I am not granola.
First I painted the walls Ralph Lauren Veranda (cream). Then I spent an entire day measuring 5" stripes down both, long hallways... I used a level, a pencil, and a ruler... that's right, I did it old school. I tried to use the cheapest laser level thingamabob I could find.... it didn't work. I used about 6 rolls of tape, and then I was ready to paint!
I used Ralph Lauren Regent Metallic... it has a consistency slightly thicker than water, so I knew I was in trouble once I started rolling in between the lines. I knew that I would have a lot of touching up to do once the tape came up! Painting the stripes didn't take that long. Or maybe it was just really exciting to be painting instead of prepping for paint! I painted 3-4 coats of the metallic, the more you use, the better the texture becomes and the more metallic the paint looks.
Removing the tape should have been the best part of this project, instead, removing the tape stripped a lot of the base coat off in chunks and, I was right, the paint ran right through the tape in so many places.... So, after all of that work, I took the tape off while I cried and drank wine. It was pathetic. Thank goodness all of the tape I had used turned into a ball that was ENORMOUS... so enormous that I couldn't help but laugh a little.
So, I came home every night from work and touched up my precious walls for hours until it was time to go to sleep. This lasted for about 3 weeks, and then, it, was, DONE! I'm pretty sure I cried again, this time minus the wine, and the gigantic blue ball of tape.
After all of that work, it took a long time to mussy up the courage to hang anything on the walls, and by a long time, I mean about a year! I collected different pieces for the hallway over about a 2 year span- and finally came up with an organic arrangement that I love....
This is our entry/hallway now....what do you think?
The wall hangings are all monotoned in color- I stuck with cream, white, silver and gold. I even painted three canvases to compliment the monotones in the rest of the arrangement. I think it's easier to make a grouping of wall hangings when you have a general idea about color scheme, shape or sizes as well as a variety of different kinds of pieces (like mirrors, artwork, photographs and objects)
I found the tiny convex mirror below at an antique place in pelham, alabama- love it! I painted the petal painting in the center of the collection as well as the two chair paintings on canvases.
I adopted the small set of deer horns from my mother-in-law, I LOVE the creamy/rustic look that they bring to this collection. They're perfect for adding a little manliness to all the prettiness. The top frame with the writing on it is a lucky find from Hobby Lobby (not expected, I know!) The simple, cream frames are from Pottery Barn. I love having a place to frame our engagement and wedding photos!
The white and gold oval mirror was another lucky find that I ran across while shopping at TJMaxx. The cream frame with the linen mat holding our sweet pups is from Pottery Barn. The precious yellow wooden circle frame is from Anthropologie. I love the subtle touch of color that this piece brings to the wall and I really love that it's hanging from the yellow ribbon. I think this breaks up the look of all these hanging pieces. The small dog canvas is another piece painted by yours truly! There's nothing like hanging your own artwork.
Here's a quick shot of the actual entryway: the two paintings to the left are also painted by me! We replaced an awful "boob light" (sorry... I know that's crass, but lets be honest, it's true!) with this looker from Pottery Barn. I love the glass and the formality that this light fixture gives this space.
Here is a quick shot standing in the kitchen looking down my stripey-fab hallway. Mister Husband replaced all of the "boob lights" that were running down the hallway with these pendants from Pottery Barn. I LOVE the look of pendants in a hallway. I used edison bulbs in these fixtures to add even more interest. I LOVE a good edison bulb.
So, do you want to see the other side of the entryway? Here it is... it's NOT complete yet. The walls need to be painted and I'm really wanting to use black, yum! Anyway, Mister Husband got this great mirror for me (that I picked out..) and I have been waiting to hang it until I got a little table. I have also had these antique gold, crystal dripped sconces for over a YEAR now... I have been patiently waiting to come across the right console table, and I finally found a solution that I liked! So here it is! (and yes... that is King peeking out of the guest bedroom in the mirror)
Here are the Aris Corbel shelves that I got from
Restoration Hardware
-- they were SO big that I could use them to create a small foyer table. I was able to pick them up at my local Restoration Hardware- and then Mr.Husband contacted our local glass guy to get the glass top at a
MUCH
cheaper price than RH's glass table top.
Wahoo for my wallet!
I thought about getting many different console options, but I knew that the piece needed to be so small that it was difficult finding something that didn't look too wimpy... after all, that mirror is HUGE! So- these hefty corbels fit the bill!
Here are a few shots of the deets.... I love this photo of my little brother- I took it in my college photography class and have always wanted to use it somewhere special. I used a few martini glasses, a shaker and a silver tray to create a little bar area- I LOVE a good mini bars in any abode...
I LOVE the little rock votive holder, I snagged it for $6.99 at TJ Maxx... score! I got the metal "M" from Urban Outfitters-- and stacked a few pretty books topped with jars to finish up the table.
Here it is again... you can see the oval rug that Mister Hubbs got me for my birthday a few years ago from Anthropologie as well. I love it!
I must say, I really love our striped entryway and hallway. It was worth all of the work and frustration. I think you can see exactly what kind of people we are as soon as you walk through the door. I love packing a ton of personality into small spaces. The stripes such a huge statement when you open our front door. What I learned: when painting stripes, give the base coat MORE than 24 hours before putting painters tape on top. I would suggest a WEEK so that you may avoid the pitty party that I went through. Also, if you are using paint that does not require a special application (the metallic paint must be painted with a shag roller) paint by hand and forget the tape! If you do not have a steady hand, forget about it... but if you do, it's totally worth painting the stripes in by hand with a brush!
DO YOU HAVE AN ENTRYWAY OR HALLWAY YOU WOULD LIKE TO SHARE???
1. Join the Roomspiration party by linking up your room that is relevant to the room being featured on each blog. Links for all rooms will stay open until Oct. 14th
2. Add the Roomspiration button and link back to this post or on your blog to help spread the word.
3. Feel free to link up an older post showcasing your room(s) - please add the button and link back in a recent post to share the party with your readers and to re-share your room(s).
4. You can link up as many rooms as you want! The more the merrier!
5. Don't forget to check out all the other awesome rooms that are linked up! Maybe stop over to say hello at a few, don't be shy!
Make sure you're a FOLLOWER of Abode Love and LINK UP BELOW!